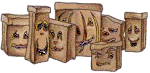 I just wanted to share a few of my holiday cards.
As the Halloween gets closer, I will have some other
Halloween, Thanksgiving and Christmas cards to share, but for now
I will post these. Don't forget to come back, I will
be gone for a eleven days, but I still have a week before my trip.
I will post a few cards in the meantime.
Hope you enjoy them.

This sack is filled with holiday joy.....