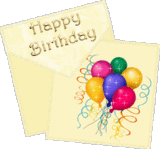 Happy Birthday Elias
Happy Birthday Leandra
On Monday, May 17, my Grandson is having a birthday. and come Saturday, May 22, my Granddaughter, Miss Leandra is also celebrating a birthday. So, we will be surprising them
with a birthday visit with all the bells and whistles. I will be taking a birthday cake for Elias and on Saturday, we will have a small birthday party. I can wait to see their expressions. When they get home from school and we're waiting to surprise them. I am excited to see them. Haven't seen them since the beginning of the Year.
I am sharing her baby shower card. I hope that you enjoy it and can find
someone to share it with.

I also made a graduation Card
for those who are having graduations this month.
It can also be used for another occasion by replacing the
grad. topper. I also made a matching envelope.
I will try to post again by Sunday, but if I don't
I will be back by May 24.
Thanks for stopping by....