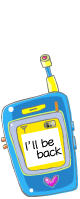 I said in my last post that I would leave a couple of cards before my trip.
Well, here they are...
Rosebud_card
This a birthday card with Happy Birthday placed on
the inside of the card.

Sports_car_card
You can change the number on the car to match
birth date or age.
Well, hope you enjoy these cards.