Hi everyone, I hope that your not experiencing to much of this sudden weather change. I just hope that its not going to lingering around on Halloween. So many are looking forward to having nice trick o treating weather. I can't believe how much the weather has changed here in New York City. We have been getting temperatures in the low 40's. Its even snowed in some parts. Its cold and wet today, Sunday. It seems that this is just a preview of whats to come. Ouch! My grand kids live in Virginia and Mom has already got there jackets out. They went for there yearly hay ride and she said it was cold. Well, I hope that your not having snow in your area, it to premature, right!
I thinks so, but it seems that nature is the boss and its always reminding us of it.
These are the last of my Halloween cards, anyway as far as I am concern. I just have a Halloween Birthday card for Zoe, who is turning one. She's our Halloween baby! I will post her birthday card as soon as I finish with it. I am posting a topper for scrap booking and a card. If I get any ideas for any toppers I will try to post them before the big day.
I hope that you enjoy them.
This is a topper, great for scrap books, Door Hanging, etc.
This my Witch's shoe card cover
and the inside.
I placed the title Boo! on the inside of the card,
I thought that placing it on the cover of card would
be to over whelming, but you decide.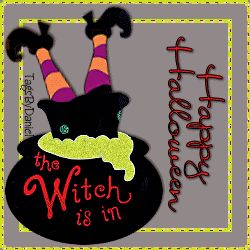 Thank you for stopping, by feed my blog....